If cracks, chips, or misshapen teeth leave you hesitant to smile, you may be an ideal candidate for porcelain veneers. Dr. Ryan Tracy provides this solution to patients in greater Clinton, MS, including Jackson and Brandon. Porcelain veneers are thin porcelain shells placed on the front of your anterior teeth to give your smile symmetry. No matter what your cosmetic goals are, our staff is willing to find the right solution to meet your needs. During a consultation, Dr. Tracy can determine if veneers or another solution is the best way to enhance the look of your smile.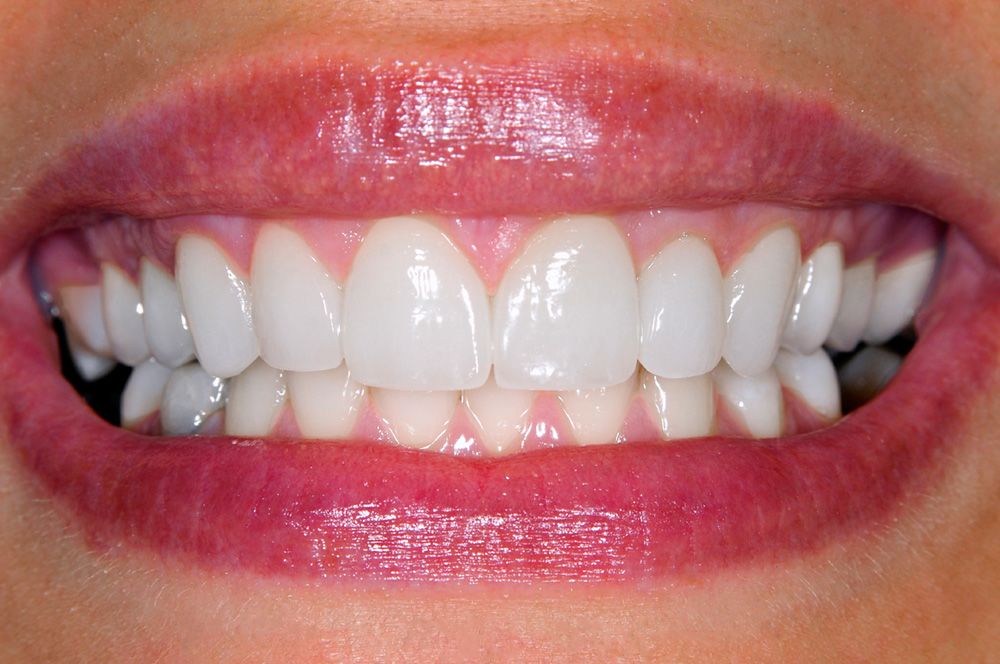 Benefits of Porcelain Veneers
There is a reason that models, actors, and celebrities opt for porcelain veneers to give them photo-ready smiles. Porcelain veneers allow Dr. Tracy to change the shape, size, and color of your anterior teeth. This solution can give you:
Natural-looking results: During your porcelain veneer consultation, Dr. Tracy will listen to your cosmetic goals. Before your porcelain veneers are created, Dr. Tracy will give detailed instructions to our trusted laboratory so your new veneers appear natural and attractive. Factors such as skin tone and the dimensions of surrounding teeth will be considered before your custom veneers are fitted at our dental practice.
Versatile treatment: While treatments such as teeth whitening can improve specific features of your smile, only porcelain veneers can address a wide range of cosmetic blemishes at once.
Straighter teeth: Many people do not realize that porcelain veneers can address alignment issues and gaps between teeth. Often, veneers can offer similar cosmetic results as orthodontic treatments in a fraction of the time.
Long-lasting results: Once your veneers are placed, you will need to maintain the porcelain attachments by maintaining good oral hygiene habits and regular visits to our dental practice. Properly maintained veneers can last several years.
Stain-resistant results: Porcelain veneers are stain-resistant. However, it is important to understand that "stain-resistant" does not mean "stain-proof." Consuming dark-pigmented foods and beverages in moderation, along with total abstinence from tobacco products, can help keep your entire smile bright.
Am I a Candidate for Porcelain Veneers?
Those who desire a solution for imperfections that do not affect the health or function of their smiles are often great candidates for porcelain veneers. If you have significant alignment issues, for example, orthodontics may be a better choice.
Patients who benefit the most from porcelain veneers have minor:
Chips
Cracks
Gaps
Intrinsic stains
Misshapen teeth
Unevenly sized teeth
Candidates should be in good oral health and have sufficient enamel to undergo the preparation phase of the treatment.
Dr. Tracy and our skilled team of dental professionals can help you realize your ideal smile.
How Are Porcelain Veneers Placed?
Porcelain veneers can be provided over the course of two convenient visits to our dental practice. During your first visit, Dr. Tracy will prepare your teeth by removing a very thin layer of tooth enamel. This creates room for your porcelain veneer to be placed, and prevents it from looking unnatural among surrounding teeth. Dr. Tracy will use local anesthesia to ensure that you are comfortable throughout your treatment. After your teeth are prepped, Dr. Tracy will take impressions of your teeth. These will be used to manufacture your veneers at a trusted laboratory. You will be given temporary veneers before you leave our office.
We also offer LUMINEERS®, an alternative to traditional veneers that requires little to no preparation of the tooth. During your consultation, we can determine if you are eligible for this treatment.
During your second visit, Dr. Tracy will ensure that your veneers are a proper fit before attaching them to the front of your teeth using a special bonding agent. Most patients experience a short adjustment period, which may include temperature sensitivity, following the placement of their custom veneers. Regular brushing, flossing, and checkups can ensure that your veneers last for several years.
Schedule Your Consultation Today
Dr. Tracy and our skilled team of dental professionals can help you realize your ideal smile. To schedule your porcelain veneer consultation, please contact our office online or call (601) 924-0770.