To provide our patients with the ultimate solution for tooth replacement, we offer both traditional and mini dental implants. In combination with a custom crown, bridge, or denture, these implant posts can replace missing teeth from root to crown, renewing the form and function of your smile. Dr. Ryan Tracy places and restores dental implants at our Clinton, MS, office, providing comprehensive care under one roof. At our practice, we consider our patients our top priority, and our team is dedicated to delivering the highest quality dental care in a comfortable, friendly environment.
What Is a Dental Implant?
A dental implant is crafted from surgical-grade titanium. This small post is inserted into the jawbone to replace tooth roots. A dental implant is designed to become a permanent part of your smile and can provide a strong foundation for a custom crown, bridge, or denture. In combination with a restoration, this innovative treatment provides beautiful aesthetics coupled with long-lasting function.
Am I a Candidate?
During your consultation at our practice, Dr. Tracy can review your medical history and oral health to determine if you are a candidate for treatment. He may request x-rays or other advanced images for a comprehensive view of your jawbone, teeth, and gums. To qualify for dental implants, you must have enough jawbone tissue to support implants. If you have suffered bone recession, you may require a preliminary bone graft or sinus lift to prepare you for surgery.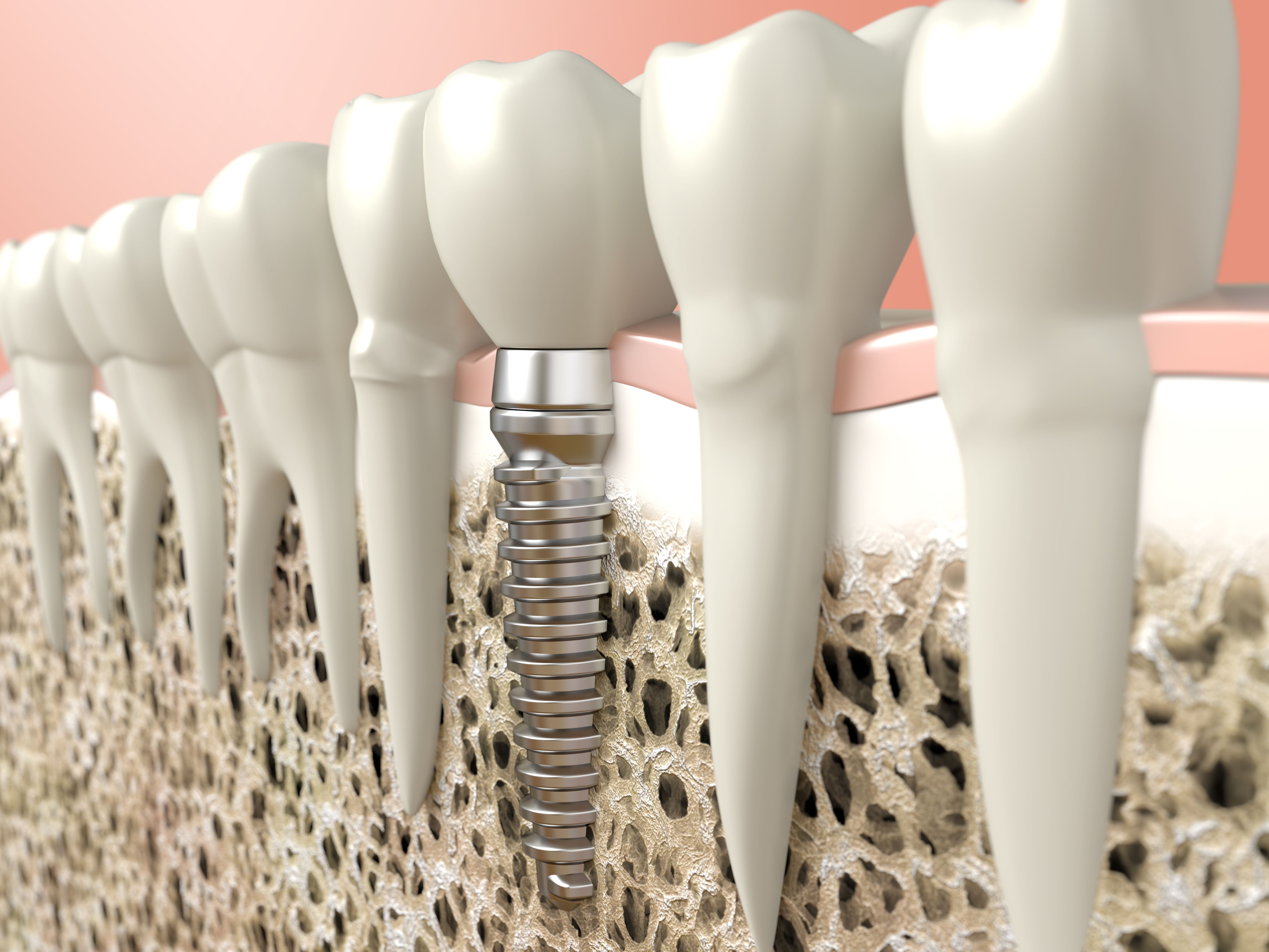 Dental Implant Treatment Process
If you are a candidate for dental implants, we can schedule your implant placement. During the procedure, we can administer a local anesthetic to ensure your comfort. To provide the highest standard of service, Dr. Tracy integrates the latest technology into treatment. These tools enable him to precisely place your dental implants, often without the need for incisions or sutures.
In combination with a custom restoration, this innovative treatment provides beautiful aesthetics coupled with long-lasting function.
Post-Operative Recovery
It is normal to experience mild discomfort after any oral surgery procedure. However, any pain can be managed with over-the-counter anti-inflammatory medication and should subside within a few days. If you experience swelling, you can also apply cold compresses to your face every 20 minutes. These should help to reduce inflammation. During the first few days, it is important to maintain proper oral hygiene, but make sure to be gentle when brushing teeth near the surgical site. If you have additional questions about what to expect during recovery, our team would be happy to assist you further during your consultation.
Osseointegration
Over the next four to six months, your dental implants will fuse with surrounding tissue in a process known as osseointegration. As a result, your implants will become part of your smile and form a strong base for your crown, bridge, or denture. Once your implants have fully integrated, you can return to our office to receive your custom restoration.
Mini Dental Implants
At our practice, we use standard dental implants in most procedures, as they provide optimal stability for restorations. In cases where patients have suffered bone atrophy and do not have sufficient tissue to support traditional implants, we can place mini implant posts. These are shorter and smaller in diameter and enable us to use existing bone, often without the need for a bone graft. Though mini dental implants are most commonly used to stabilize removable dentures, they can also serve as single tooth replacement solution when needed.
Benefits of Dental Implants
Dental implants are widely recognized as the best solution to tooth loss. Normally, healthy tooth roots stimulate the nerves in the jaw, keeping the bone healthy and intact. However, after a tooth is lost, the jaw no longer receives vital stimulation and can begin to deteriorate. Unlike other tooth replacement solutions, implants and restorations stimulate the jawbone with each bite you take, helping to preserve its natural structure. As a result, they help to protect not only your oral health but also your appearance. In addition, dental implants provide:
Natural-looking aesthetics
Improved speech
Better function
Improved comfort
Long-lasting results
With complete dental form and function, patients can feel confident in their appearance and engage in life more freely.
Implant-Supported Restorations vs. Traditional Restorations
Patients with traditional dentures often have to adjust their shape to account for structural changes after tooth loss. This can lead to added expense and time-consuming office visits. In addition, because traditional dentures are only held in place using suction and dental adhesive, they can shift out of place when you eat or speak. While traditional dental bridges and crowns are more secure, they require us to alter your natural, healthy teeth.
Unlike these tooth replacement options, dental implants enable us to replace your tooth without compromising adjacent teeth. They also offer increased stability, so you will never have to worry about your restoration shifting out of place.
Schedule a Dental Implant Consultation Today
Missing teeth can have a significant impact on your daily routines and, in turn, your quality of life. To learn more about dental implants and find out if you are a candidate, we encourage you to schedule an appointment with Dr. Tracy. You can contact us online, or call our office at (601) 924-0770.